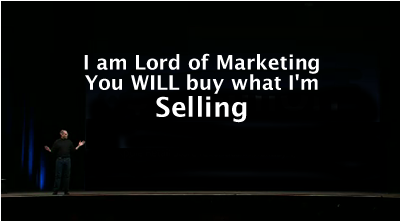 I refreshed iLounge.com today to read the updates from Steve Jobs' Macworld Conference and Expo keynote address. I was quickly reminded why I finally decided to switch to the Macintosh: iLife. Most people use their personal computers for, um, personal things. Now that everything is digital (when was the last time you took "film" to Wal-Mart to get "developed"?), iLife has everything you need at a price that most can easily afford. iLife can create movies, audio recordings, DVDs and organize your photos and digital music files with ease. Actually, what really sold me on OS X was when John showed me Exposé, which I still use regularly. And of course there is the stabilty of the Mac's operating system which is just unnoticed gravy for me now.
My mom e-mailed me a couple weeks ago and asked, "Have you downloaded Google Earth yet?" To which I replied, "No. They don't have a version for the Mac."
I have my home office Windows computer that's still an okay machine. I could have installed Google Earth on it but I was honestly afraid that if I did, my ethernet card might run the risk of no longer being recognized by Windows XP, or that my CD burner might actually catch fire. That would require me to endure the painstaking and arduous task of replacing hardware and ultimately, reinstalling Windows XP.
Today Apple announced the newest iMacs and the brand new MacBook Pro, both with Core Duo Intel processors. I bought a G5 iMac for my work computer a couple months ago. It is the gold standard for a desktop PC. As are most Mac owners, I was somewhat upset when the new iMacs were announced with the new Intel chip architecture. I told my office manager, "GOD XXXXXX XXXXX XXXXXX XXXXX MOTHER XXXXXXX IT'S XXXXXXXX XXXXXXXX SHOULD HAVE XXXXXXX WAITED!!!" But we were all told that Apple and Intel were partnering up last year. Caveat emptor.
What is this new processor that makes the 2006 Macintosh computers so super sweet? Well, I'd tell you about benchmarks and stuff but, I really don't understand benchmarks. When I think of benchmarks, I think of what a notch in a headboard means to homeless people.
I easily spend 12+ hours a day in front of a Mac. I'm a geek. Albeit I could probably be doing more productive things in those three hours at home in front of the computer, but somewhere down the line I inherited a geek gene. I went so far as to interview my own family as to how this advanced-thinking lineage was passed down.
"Dad, what is it that makes me fascinated with the world of technology and how it will change generations to come?"
"Mmmhmmm. Some people call it a sling blade. I call it a kaiser blade. Mmmhmmm."
Since my wife has a degree in photography, I gave her a nice digital SLR camera for Christmasâ"¢. I personally think Aperture would be a great application for her as she's a little hesitant about breaking back into the world of photography and digital photography is a whole new, unadventured world in her eyes.
Aperture would run great on a Core Duo MacBook Pro versus my 1.2 GHz G4 iBook with 1.25 GB DDR SDRAM. The MacBook Pro is a notebook computer that can easily replace a desktop computer. It has benchmarks!! It's a great machine and I would love to have one. I would love to have one so much that I just know I will lose the battle when I propose to my wife that I HAVE TO HAVE ONE for my thirtieth birthday. Just think of a notebook computer that is 4-5 faster than its predecessor. It's Double True! No, it's Quadruple True!
My biggest hesitation about buying my first Mac was the price. I honestly don't think I would have bought one myself but I kept bitching about how my Windows computer had so many problems and how an iBook would be so great to have that my wife gave me one for our anniversary two years ago. Since then I cringe when I have to use a Windows PC.
But still, the Macintosh, and even the iPod pricepoint are hard to swallow for many. I've come to two difinitive conclusions since becoming a die-hard Mac fanatic: time spent maintaining your PC and Apple's packaging.
If you sit down and figure out how much you make an hour assuming 1) you know how to determine your hourly wage (if you're paid a salary) and 2) you actually have a job, it's astonishing how much time you can spend on Windows updates, virus scans, add/remove programs, msconfig, regedit, scanning for spyware and malware, patches, networking, crashes, BSODs, drivers and watching heavy eyelid-inducing CES keynotes using Windows Media Player, you'd realize that you're losing time and money. If you can estimate that you make ~$20 an hour and spend three hours a week maintaining your Windows computer then the need for the switch is obvious. You need an iProduct.
My boss handed me his company nearly two years ago. I didn't know jack shit about running a company and since then have learned a lot by trial and error and very hard knocks. One of the first things I learned on my own was cutting costs. One of our biggest costs was packaging and shipping. We handle all fulfillment in-house and we used to have custom boxes made for us with our nice, big corporate logo stamped on two sides of all of our boxes. After some research I quickly realized that our customers don't care what our boxes looked like or how they were branded. I 86'd the box branding and found a new vendor that sold standard and comparable-sized boxes and I saved the company 70% in fulfillment.
I remember buying the G5 iMac at the Apple store in Barton Creek Mall and how it was invigorating, ego massaging, if you will, and, at the same time, embarassing to lug and stagger though the mall and through the parking lot with a large and clunky branded G5 iMac suitcase box in my hand.
I bought an HP DV-something-or-other model notebook PC for one of my salepeople from a brick and mortar CompUSA a year ago. It came in a standard, brown box with a thermal printed "HP" logo and model number on the exterior. I didn't care that it came in a brown box. My employee didn't care. Our potential customers didn't care either.
Apple should do the same thing. We know what we're buying when we visit a retail store or order online. That's 70% percent that could be shaved off somewhere along the conveyor belt.
Steve Jobs, that's seventy percent, not deem. Either way, Apple's stock went up $5 today and I'll buy a Core Duo one day. Call it a benchmark.