Archive for March, 2016
It's going on six weeks now since I ran my first marathon. Even with all the training, it was rough. I think I should've gone on runs longer than 26.2 miles. I think if one were to train on 30 miles runs, a 26 mile run would be a walk in the park.
While it was tough running 26 miles, it was a lot of fun. I was in my hometown, the race was amazingly organized, the course was awesome (and flat), the weather was perfect and it made for a really nice weekend. I drove into Houston on Saturday afternoon, checked into the Magnolia Hotel and tried to go to bed early. Top Gun was on TV and I couldn't just turn it off. 3:30 a.m. came early. Three and half hours later I was toeing the line.
Elise drove in from my mom's house to meet me at the finish line. As a nice lady sang the National Anthem, it was at that point that my bladder decided to send signals. When the National Anthem starts, that means that whenever that song is over, you're going to hear the start gun seconds later. So I started my first marathon. And within the first half mile I knew I should just go ahead and take care of business. So, I did. And then I ran and ran and ran and ran and ran. My first mile was in 8-minutes and some change. The next 23 miles were in the low 7's. And then the monkey jumped on my back right at mile 24. I held him off as best I could, but my pace suffered a lot. I finally saw the finish line, but it was still a long way away. I waited on my body to tell me when I could sprint. And it did. I probably sprinted the last 300 yards.
My official time was 3:14:58. Here's the course and my stats from my Garmin Forerunner 610.
I think the best part was having Elise there after the race. She ran up to me in the "reunion area" and threw her arms around me and congratulated me. It's always awesome to have a pretty cheerleader. Elise walked me back to our hotel and then she walked back to the convention center to watch her cousins finish the race. I stayed back at the hotel and tried to rest and sleep. I got some rest, but no sleep. A little before dark we hit the streets to find something for dinner. There were no restaurants that were open on Sunday night. After walking for a few miles, we finally went back to the hotel to ask the concierge where we should eat.
We had an awesome dinner at El Tiempo. It was the best meal that I can remember having in a very long time. I really do think it was an awesome dinner, although, I was also experiencing a 3,500 calorie deficit.
I think I fell asleep as soon as we got back to the hotel and my head hit the pillow.
No comments
This past Friday was awesome. I'd decided to take the day off from work. You know, just take the day off because it was there for the taking. Pretty much a much-needed mental health day.
I took Maly to school that Friday. I usually take her to school on Tuesdays and Thursdays. I decided to take her to school again. We were five minutes late to school because there were a couple accidents on Escarpment and Slaughter. That was okay. We just went with it and we talked and we were a little late for school. The front office already knew about the accident, so we had an excused tardiness.
Last Friday was also Maly's last Kiker Keynotes concert at school. The Keynotes performed the night before for family. I couldn't attend because I had school. So I went to the 8 a.m. concert. That was a great way to start the day — watching your oldest daughter's choir concert on a Friday when I didn't have to go to work. I guess the only bad thing about the concert was that my phone ran out of storage, so I wasn't able to record any of the performance. That's okay. I think that was because I was supposed to be present and enjoy the show in the moment.
And then after the concert, I played 18 holes of golf at Grey Rock with Steve.
I really needed that Friday.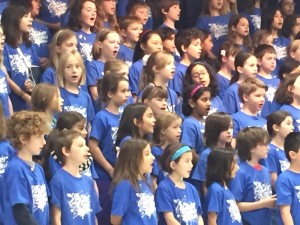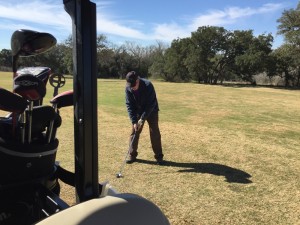 No comments