Archive for December, 2012
I used to be the chef of the family. I used to spend hours and hours in the kitchen, and this was after and on top of the hours I'd spend thinking about food and recipes. And then we had kids. Before children we'd eat dinner at 9 p.m. Now we eat dinner no later than 6 p.m. Eating at 6 p.m. does not allow for hours and hours to think about preparing meals. So, for the past 6 years, Elise has been the primary head that wears our kitchen's chef hat. That changed recently because Elise became fed up with Maly's and my groans. She threw her hands in the air and said, "if you don't like my cooking, YOU can start cooking again."
I laughed her frustration off until Maly and I were sitting at the table at 6 p.m. one evening and it looked like we weren't going to have dinner that night. We scrounged that particular night, but I knew then that Elise was serious in that she was going to bow out and I'd have to figure out some meals for our imminent survival.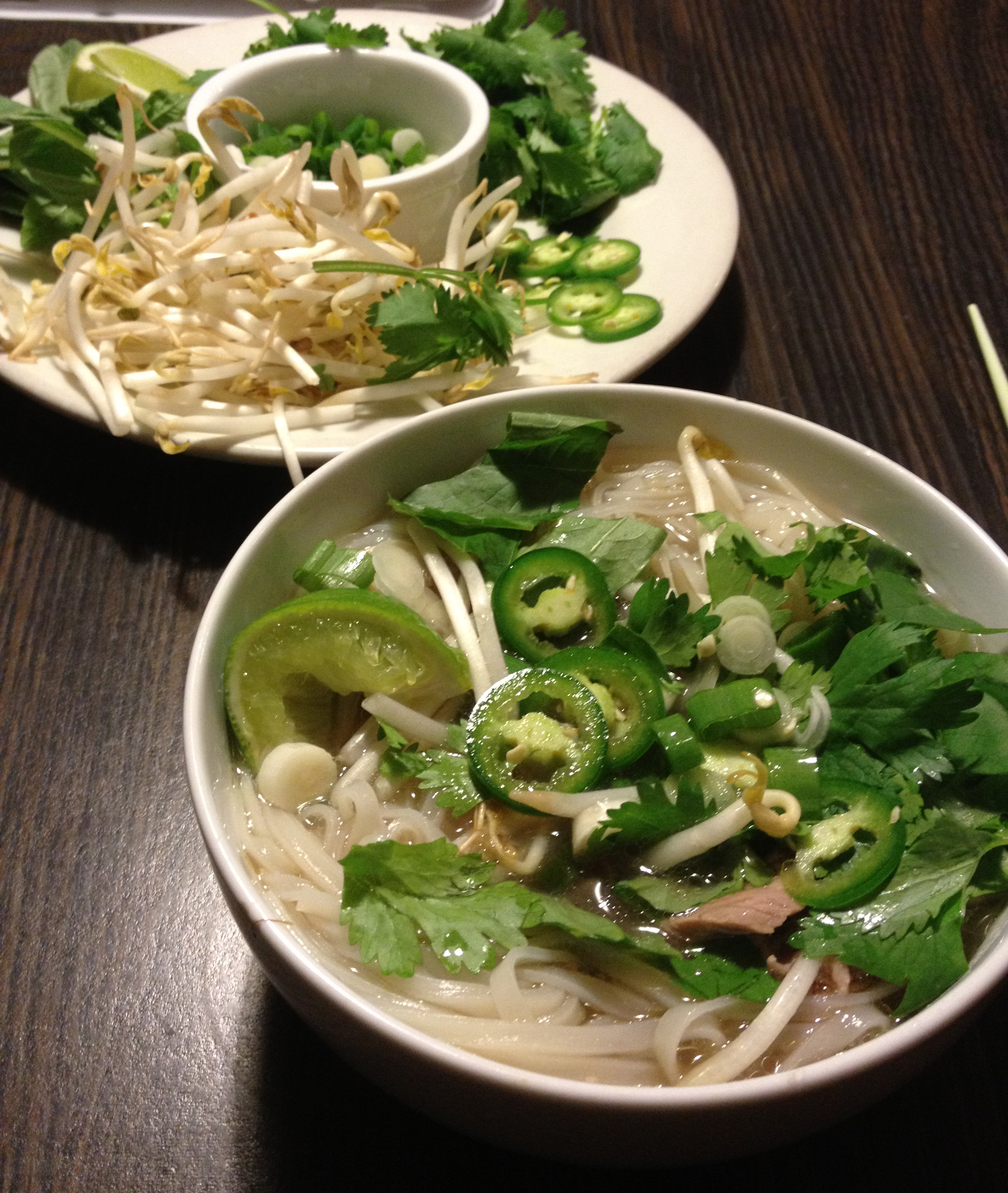 Thankfully the weather had starting getting cold, and one of Maly's favorite meals is pho. I'd never made pho, so it just made sense to teach myself. You can go the quick and easy route and make broth from beef stock or bouillon, or you can go the more traditional route, and make a flavor-filled, hearty and traditional broth. I opted for the latter, so the next morning, I was at the grocery store, purchasing knuckle bones and rice noodles.
I took this recipe from Epicurious, and kind of followed it (the recipe itself is all over the place and kind of hard to follow), but quickly realized that this recipe is really, really simple and fast to prepare (albeit you should give yourself a couple hours to simmer the broth).
BROTH
5 pounds beef marrow or knuckle bones
2 pounds beef chuck, cut into 2 pieces
2 (3-inch) pieces ginger
2 yellow onions
1/4 cup fish sauce
3 tablespoons sugar
10 whole star anise
6 whole cloves
1 tablespoon sea salt
GARNISHES
3 scallions, cut into thin rings
Cilantro
1 pound bean sprouts
10 sprigs basil
6 Thai bird chilies or 1 serrano chili, cut into thin rings
1 lime, cut into 6 thin wedges
1. In a large stockpot, bring 6 quarts water to a boil. Place the bones and beef chuck in a second pot and add water to cover. Bring to a boil and boil vigorously for 5 minutes. Using tongs, carefully transfer the bones and beef to the first pot of boiling water. Discard the water in which the meat cooked. (This cleans the bones and meat and reduces the impurities that can cloud the broth.) When the water returns to a boil, reduce the heat to a simmer. Skim the surface often to remove any foam and fat. Add the ginger and onions, fish sauce and sugar. Simmer until the beef chuck is tender, about 40 minutes.
2. When the broth has been simmering for about 1 1/2 hours total, wrap the star anise and cloves in a spice bag (I used Elise's tea egg) and add to the broth. Let infuse until the broth is fragrant. The anise and cloves will just give it that smell. Remove and discard both the spice bag and onions. Add the salt and continue to simmer, skimming as necessary, until you're ready to assemble the dish. The broth needs to cook for at least 2 hours. (The broth will taste salty but will be balanced once the noodles and accompaniments are added.) Leave the remaining chuck and bones to simmer in the pot while you assemble the bowls.
3. To serve, place the cooked noodles in preheated bowls. (If the noodles are not hot, reheat them in a microwave or dip them briefly in boiling water to prevent them from cooling down the soup.) Place a few slices of the beef chuck and the raw sirloin on the noodles. Bring the broth to a rolling boil; ladle about 2 to 3 cups into each bowl. The broth will cook the raw beef instantly. Garnish with yellow onions, scallions and cilantro. Serve immediately, garnish the bowls with bean sprouts, herbs, chilies, lime juice.
Where we live in south Austin leaves something to be desired in terms of Asian markets. Thankfully there's a little hole in the wall restaurant/market called Filipino Asian Mart at 1st and Slaughter where I was able to buy big bags of rice sticks (those famous noodles perfect for pho) for $2 per bag.
And Maly and Elise loved the pho we had for dinner that night. Maly even said, "this is the second best meal I've ever had!" I didn't bother to ask her what her first was.
No comments
"Ok kids, look to the right and make weird faces. Mom & Dad, try to look like you've had some sleep in the past eight months. Say, 'Merry Christmas!'"
No comments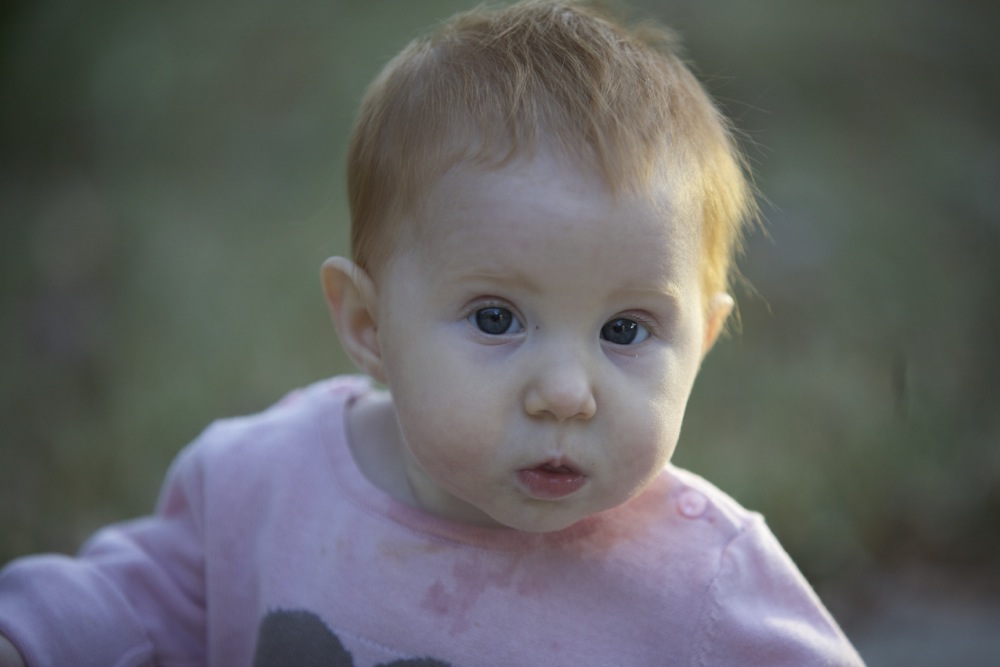 Dear Mara,
You turned eight months old today. And today is your first Christmas. This is your mom and my first Christmas with "children," and it's made it that much more of a special holiday for us. We're so blessed and thankful that you were born, and you've reminded your mom, sister and me how precious life is and how farts at inappropriate moments are awesome.
You've learned and accomplished a lot of things this month. Most notably and most recently is your penchant for clapping. You'll crawl around the house with no real motive, stop, sit up and clap. You'll then look at us and anxiously wait for us to join you in clapping. And then we clap and cheer and everyone smiles, laughs and says, "Yaaayyy!" And then we do 400 more times in a 10 minute time span.
It's this month that your personality has become such that I've decide you take after your mom. You're perpetually happy, you smile at people and you're bubbly and outgoing. You really only get upset when you've been stewing in your own deuce for too long, you're really hungry, or your mom drops you on your head. Other than that, you have such a cute and infectious smile that melts hearts.
And speaking of smiles, this month you cut your first tooth. Actually, you cut your first three teeth. Given our limited experience, we knew that one of your bottom front teeth was coming in. We could see it breeching your gum line, and then one day, there it was — it made it's way through and we could feel your new tooth with our fingers. And just the other night while we were poking around in your mouth we found a fang. And not but a few seconds later we noticed your other fang. You look like a little copper-top vampire, but you're still so stinkin' cute.
You growl. When you crawl around, you growl. When you're trying to pick something up, you growl. When you'd rather be doing anything other than having your diaper changed, you growl. Right before you cry after you've fallen, you growl. When you're trying to figure something out in your head, you growl. I take it as a sign that you've identified challenges and frustrations in life, and you're verbalizing it.
You also started cruising this month. You pull yourself onto anything and have started walking while you support yourself on anything that's Mara-level. We weren't really expecting this mode of transportation so soon, but we'll take it. And while you were quick to teach yourself how to pull yourself up onto your feet, it's been amusing to watch you try to figure out how to get back down to the ground. You've endured your share of head bonks, face plants and ground-level barrel rolls, which, of course makes for lots of growls and tears, but you've learned fast and you're persistent as all get out. It's always so much fun and so cute to witness you teach yourself how to do new things, like crawl or cruise. In that same breath, it's bittersweet to witness you grow up so quickly.
While we've provided you with all sorts of new toys and a wealth of hand-me-downs from your sister, your absolute favorite toy is a stupid charger cord for my Macbook. We have drawers and closets full of toys that are perfect for a baby, and yet nothing gives you more hours of enjoyment than your charger. I learned the hard way that baby saliva renders an expensive laptop charger useless. You've taken the magnetic Mag Safe end of the charger cord to your tongue and gums and have since ruined my computer's cord. So the charger is now yours. And you carry it around with you all throughout the house. You lovingly hold the MagSafe end of the cord and drag around the power brick end of the cable like you're taking it for a walk. I'll always stop and ask, "you taking your charger for a walk?!" And invariably you'll look up at me and smile and clap. It's not the toy I'd expect you to take such a liking to, but it's cute and you love your charger. By the way, you owe me $79.
You're growing so fast and your personality continues to grow and shine through at each passing day. Thank you for sharing your ear-to-ear smiles, and reminding us of how good it is to smile and find the happiness is most everything.
Thank you for being you.
I love you, Mars.
Love,
Daddy
No comments